It's fall harvest in Ontario and for many of the province's migrant farm workers, that means it will soon be time to go back home to their families for the winter.

Every year, Ontario fruit and vegetable growers employ approximately 20,000 seasonal and temporary foreign workers through the government-regulated Seasonal Agricultural Worker Program (SAWP) and the agricultural stream  of the Temporary Foreign Worker (TFW) program.
For SAWP workers in particular, their time in Ontario is seasonal and linked to the farm work that needs to be done to grow, manage and harvest fruit and vegetable crops, and fall is an eagerly anticipated time after being away from families, friends and homes for months at a time.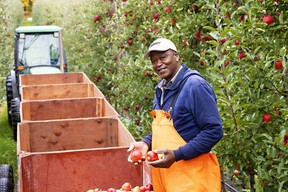 Jamaican Perry Richards has been coming to Canada through SAWP for about 30 years and has spent the last 18 working at Ardiel Acres, a Georgian Bay-area apple orchard. His Canadian job has helped him pay for his children's education, build a house and buy a car.
"It's helpful to my family (to be here). When I go back home, I have a little farm, I raise pigs and cows," Richards says. "I'm going home for the season in a couple of weeks, and I can't wait to see my wife, look around the place and see my animals."
His co-worker and fellow Jamaican Paul Sharrier has been a SAWP worker in Canada for eight years. A mason by profession, he builds houses when he's home in Jamaica, and always looks forward to the end of the growing season so he can return to his family.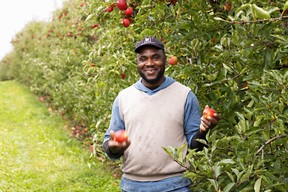 "The truth of the matter is that our economy is not as good as yours. So, when we come here and go back, it allows us to earn a better living to help ourselves and our family back home; even though it's very difficult leaving our family for like seven months," Sharrier explains. "Since I was small, I saw people coming and going to Canada. It wasn't one of my dreams to come here to work but now that I do, it's a lot better back home."
Migrant farm workers are an essential part of local fruit and vegetable production in Ontario, including at Ardiel Acres, where John Ardiel has been employing SAWP workers since 1979. He considers them family, he says, and wouldn't be farming without them.
"We all get together for an annual chicken dinner after the harvest season and before the workers return home. A large number of our team will stand up and want to talk about themselves and, more importantly, their family at home," he says. "I'm always amazed at how they speak of the program and its importance to their families. It is great to see how many of their kids turn out to be engineers, doctors, lawyers, nurses, teachers – you name it. They are really proud of what they have been able to do for their kids, and that makes them proud of themselves – and we're proud of them too."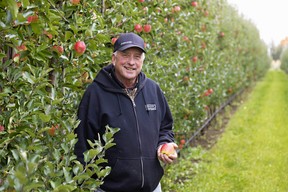 To secure SAWP or TFW program jobs in Canada, workers apply in their home countries and sign legal, government-audited contracts to accept employment. SAWP contracts also reflect decades of collaborative negotiations between Canada and the workers' home countries, which include Mexico, Jamaica, Trinidad & Tobago, Barbados and the Eastern Caribbean Islands.
And although most workers look forward to going home at the end of the year, there are avenues for those who would like to stay in Canada permanently, says Stefan Larrass, senior policy advisor with the Ontario Fruit & Vegetable Growers' Association (OFVGA).
"You have to meet certain conditions set by the government, but if you want to come, you have opportunities to do so either through provincial or federal immigration programs," Larrass explains.
Regardless of residency status, the Canadian government sets clear regulations regarding wages, benefits and working conditions for SAWP and the TFW program. This includes, for example, government-approved wage rates, workplace safety coverage, health insurance and coverage under provincial employment standards legislation.
Farms must provide every worker with a copy of the federal government's publication outlining workers' rights and protections to ensure they are aware of their rights, notes Larrass, and farms are subject to frequent federal, provincial and, in many cases, foreign government compliance inspections to ensure regulations are being followed.
To learn more about Canada's legal migrant farm workers and read their stories, visit morethanamigrantworker.ca.
This story was provided by the Ontario Fruit & Vegetable Growers' Association.