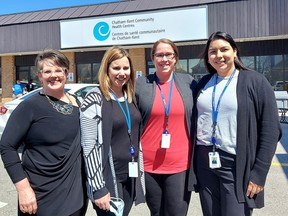 A program to provide primary health-care outreach to temporary foreign workers in Chatham-Kent will expand to serve hundreds of people thanks to some permanent funding. A primary health-care team with Chatham-Kent Community Health Centres currently provides onsite care to workers at two local farms and learned the interest was there to serve more agricultural operations with temporary foreign workers.
"We knew we needed additional team resources to do more outreach across the agricultural community, (so) that's when we put a business case together," said CKCHC executive director Sherri Saunders.
They started build that business case two years ago, including engaging with farms that expressed interest in the program.
"We had 17 farms across Chatham-Kent say, 'Yes, we would really be interested in having your team – if you were funded – come out and provide onsite access to primary care,' " Saunders said.
Thanks to $329,000 in annual funding from Ontario Health, CKCHC is putting together a team, including a nurse practitioner – now being recruited – a registered nurse and health promoter, equipped to provide medical assessments for temporary foreign workers who need acute care, prescription renewals, health education and other things. The program also offers health presentations and flu vaccinations.They aim serve about 880 workers, Saunders said. "If we have capacity to see more, we'll definitely do it. We'd love to see as many workers as we can."

"Our team has had wonderful success in reducing barriers to access to care for temporary foreign workers," said Mallory Nowakowski, CKCHC's clinical and client services manager.
"By providing onsite care, we have reduced emergency room visits and provided early intervention to prevent serious health concerns," she added. "We are thrilled to continue to serve the Chatham-Kent community."Michelle Powers, a CKCHC registered practical nurse, said she's reached out to some farm managers to discuss how the primary health team can work with their operations.

"We would love to . . . meet with interested farms and further understand their needs," she said. "We believe this program expansion will positively impact the health and well-being of temporary foreign workers in the Chatham-Kent region."

For more on the program, contact contact Powers at (226) 626-7876 or michelle.powers@ckchc.ca.
Language is a major barrier for many workers, she said, but free translation services are available.Common health issues workers face include "strains and sprains, infections, cough and cold and common flu . . . ," Powers said. "They may not recognize that we can help guide them . . . and treat it."

Health promoter Elissa Noah looks after "the non-clinical aspect," she said, from helping workers navigate the health-care system to setting up health education programs.

Saunders said the clinics run in the afternoon, evenings and on weekends, because the workers don't want to lose hours. "We're not going to be able to pull them out of the field, because they need to make their living."

Providing care to temporary foreign workers is part of the CKCHC's mandate to serve vulnerable populations in the community, Saunders said.

The expansion also aligns with CKCHC's commitment to provide accessible and equitable health care to everyone in the community, regardless of background or circumstances, she added.