Leroy Gregorio from Jamaica comes to Canada annually to work at Truly Green Farms in Chatham, where he first worked tending tomato plants in the greenhouse and now harvests ripe fruit.

"Jamaica is a poor country; to come to Canada is a better life for us. Farm work is the best thing to go into to take care of your family and make yourself a bit of money," says Gregorio. "My job keeps me active. It keeps me going because I am a guy who thinks it is never enough. When I leave Jamaica to come here, it is all about working. I make sure I get out there and my supervisors are pleased with my work quality."
Gregorio is one of over 20,000 migrant farm workers who find seasonal and temporary jobs on Ontario fruit and vegetable farms every year. These are workers who come to Canada legally through the government-regulated Seasonal Agriculture Worker Program (SAWP) and the agriculture stream of the Temporary Foreign Worker (TFW) program.

A widespread misconception that gets frequent media and public attention is that these programs leave migrant farm workers without adequate employment-related rights and protections. Unfortunately, that's because there are also migrant workers who are undocumented and without legal work permits, which leaves them vulnerable to mistreatment, regardless of which sector of the economy they work in.

That's not the case, however, for legal SAWP and TFW program workers, says Stefan Larrass, senior policy advisor with the Ontario Fruit and Vegetable Growers' Association (OFVGA).

Once here, government regulations ensure these workers have the same employment-related rights and benefits as local workers doing the same work, which in Ontario includes government-approved wage rates, access to health care under OHIP, Employment Insurance and the Canada Pension Plan as well as workplace insurance coverage, and coverage under the Employments Standards Act and the Occupational Health and Safety Act.

"These workers also have access to a multilingual, 24/7 federal government support line where they can raise concerns and seek help relating to their current employment," adds Larrass. "This is something the industry and government take seriously; worker mistreatment is not acceptable."
A frequently made assumption is that SAWP and TFW workers are paid poorly, but federal government regulations stipulate that they must receive the higher of either the provincial minimum wage rate or a federally calculated wage rate that is based on inflation, depending on the province they work in.

It's this opportunity to earn money to support their families that they don't have in their home countries that brings most of these workers to Canada – and many, like Gregorio, find employment in the greenhouse sector in southwestern Ontario.

For more than 20 years, Mexican Marco Antonio Pérez Burgos has been a seasonal farm worker in Canada, spending much of that time at DC Farms, a family-owned greenhouse in Ruthven near Leamington.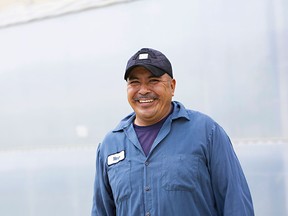 "I am an agricultural worker. My job here at DC Farms is with the tomato," he explains. "In Mexico, there are not these kinds of opportunities that we would want and here I am very happy. Thank you to the Canadians who let us into their country. I like the Canadian culture for giving us the opportunity to work here with Canadians."
What is perhaps less well known is that the wages legal migrant farm workers receive are also supplemented by other benefits paid for by their employers, including subsidized housing and travel to come to Canada for their jobs.
Workers hired through SAWP receive free housing provided by their employer and half of their airfare to and from Canada, whereas workers with permits through the TFW ag stream program pay a maximum of $30 per week in rent for their housing and receive fully subsidized airfare. Housing is typically fully furnished, and many employers also provide free WIFI and TV.
"Seasonal and temporary workers who come here through our legal, government regulated programs are an absolutely essential part of our food system, and both farmers and governments have made – and continue to make – ongoing investments in the continuous improvement of worker safety, protection and well-being," says Bill George, a grape grower and chair of the OFVGA's labour committee.

Through its More than a Migrant Worker initiative, the OFVGA has been letting workers tell their stories in their own words, while drawing attention to the critical role that legal international farm workers play in Canada's national food security and the rights and protections they are entitled to while in Canada.

For more information visit htps://www.morethanamigrantworker.ca/