Mon., May 1, 2023
The arrival of freshly picked asparagus in Ontario grocery stores unofficially marks the start of local food season in this province. For about two months starting in early May, asparagus is cut, washed, sorted, graded, packed and shipped daily from Ontario farms – and helping to make all that happen are farm workers like Errol Williams from Jamaica.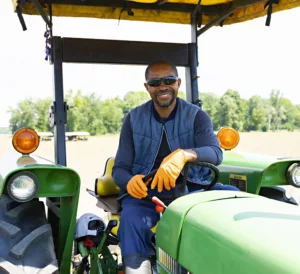 He's been coming to Ontario every year for the past 10 years to work at Chromczak Farms near Tillsonburg. This has let him send his children and stepchildren to college: one of his daughters is now in law school, another is a teacher, and his son is a computer technician.
"In Jamaica, it's very tough. I came here to make life better for me and my family. I couldn't have helped them without this job," Williams says, adding that he's also been able to start his own business. "Canada is a wonderful country. From the day I stepped here, I love it. It's nice working for Mike; he's like family to us. We eat and drink together and that makes me comfortable."
Chromczak Farms grows asparagus and watermelons with the help of a 28-man seasonal crew from Jamaica, most of whom have been with the farm for many years. According to Mike Chromczak, they're an integral part of the farm business and its success.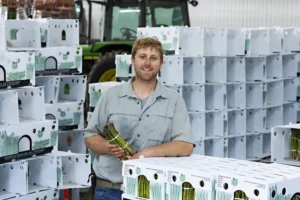 "I wouldn't dream of farming without our partners from Jamaica. Whether it's with me or with each other, our culture on the farm is built on trust and respect," Chromczak says. "I trust and respect our workers and they reciprocate with me, and it creates a strong team and culture and we're able to face any challenge that's thrown at us."
Mike Chromczak of Chromczak Farms.
Ontario's fruit and vegetable farmers employ approximately 20,000 seasonal and temporary foreign workers on their farms and in their greenhouses every year. These are workers who come to Ontario legally under the Seasonal Agricultural Worker Program (SAWP), or the agricultural stream of the federal government's Temporary Foreign Worker (TFW) program.
Farmers who employ migrant farm workers under Canada's officially recognized temporary foreign worker programs are subject to frequent federal, provincial, and foreign government compliance inspections. These employers have the same and, in some cases, higher obligations to their temporary international workers as they do for their Canadian employees.
According to the Ontario Fruit and Vegetable Growers Association (OFVGA), this includes government-approved wage rates; access to health care under OHIP, Employment Insurance and the Canada Pension Plan; and workplace insurance coverage and safety protection – just like any other Canadian employee is entitled to. Workers with permits under SAWP or the TFW program also have access to multilingual, 24/7 federal government support.
Antonio Copalcua Vásquez of Mexico has been coming to Ontario annually through SAWP for over 20 years, spending the last 13 at a fruit and vegetable farm near Barrie. Not only has this job helped him send three children to university, but he's also appreciative of the other benefits it brings.

"About three years ago I had a health problem. I told my employer about my problem, and he was the one who supported me, helped me and took me to the hospital," Vásquez says. "Through this program we are able to access health care. They gave me treatment and thanks to God, I am fine, healthy and very grateful."
Unfortunately, there is also a third segment of migrant workers who aren't as fortunate. These are people who are undocumented and don't have legal work permits. Their precarious status leaves them vulnerable to mistreatment, regardless of which sector they work in. Governments at the federal and provincial level have made it a priority to prevent the exploitation of these undocumented people and the farming sector is fully supportive of this aim.
"Fruit and vegetable growers work hard to be good employers and we are proud our sector's strong track record of compliance as employers of legal seasonal and temporary foreign workers," says Bill George, a grape grower, employer of international workers, and chair of the OFVGA labour committee. "These workers are an essential part of local fruit and vegetable production in Ontario, and we do not support employers who mistreat or otherwise take advantage of people in their employ."
To learn more about migrant farm workers and Canada's government-approved farm worker programs, visit www.morethanamigrantworker.ca.