Federal inspections show most Ontario employers follow rules protecting migrant workers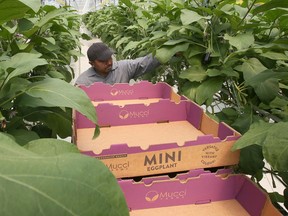 A year's worth of federal government inspections revealed 94 per cent of companies that hire temporary foreign workers are living up to regulations aimed at protecting the employees.

Between April 2022 and March 2023, Employment and Social Development Canada (ESDC) conducted about 2,100 inspections of employers across all sectors of the economy, including fruit and vegetable producers.
are continuing to make to ensure temporary foreign workers have a safe and positive experience working in Canada," said Bill George, labour committee chair for the Ontario Fruit and Vegetable Growers' Association (OFVGA). "Temporary and seasonal workers play a critical role in Ontario's food supply system, and we support measures that encourage their safety, protection and well-being while they are working here."

The growers' association said the 94 per cent compliance rate follows the government's introduction last year of new regulations enhancing its ability to conduct program inspections and make sure employers adhere to the rules.

Ontario's fruit and vegetable growers employ more than 20,000 seasonal and temporary foreign workers every year, according to the association.

The workers come to Ontario under the Seasonal Agricultural Worker Program (SAWP) or the agricultural stream of the federal government's Temporary Foreign Worker (TFW) program.
The growers' association said farmers who employ seasonal and temporary farm workers under those programs have the same obligations to them as they do to their Canadian employees.

This includes access to health care, government-approved wage rates, employment insurance, the Canada Pension Plan, and workplace insurance coverage. Temporary foreign workers are also entitled to coverage under provincial employment standards and occupational health and safety legislation, the association said.

In addition, farms are required to ensure all temporary foreign employees are aware of their rights by providing each one with a copy of the federal government publication outlining workers' legal rights and protections.

Workers wishing to raise concerns or seek help relating to their employment also have access to a 24/7 multilingual federal government support line. If the issues still cannot be resolved, an open work permit program is available for vulnerable workers.
ke sure the rules are being followed, the Ontario Fruit and Vegetable Growers' Association said farms are subject to frequent federal and provincial government inspections. In some cases, there are also foreign government compliance inspections.

The association said statistics from Employment and Social Development Canada show that the agriculture sector has above-average employer compliance rates compared to other sectors that use the Temporary Foreign Worker program.

"Compliance rates for Ontario farmers are particularly high," the association said.