There is pride in the voice of Maricela Ramirez Zamarripa as she shows visitors around her new home on the Niagara Region tree fruit and flower farm where she works.

The Mexican woman is a seasonal agricultural worker and for the last eight years has been working at Meyers Fruit Farms, a farm business that has just built five new housing units to accommodate up to 40 of their international employees.

"Everybody is happy here, this is a very good group of ladies (who live) here," she says, adding that her job in Canada is helping her family back home in Mexico.
"This is a very big opportunity for my family; this is for the bambinos, for their school, for everything."

The housing was designed and built with worker comfort and privacy in mind, and all units feature heated floors, laundry facilities, stainless steel kitchen cupboards, countertops and appliances, and bright and airy common living spaces. Each 1,904-square-foot home was built by Smart Homes Niagara to house up to eight workers in double bedrooms.

Under the rules of Canada's two government-regulated programs for international farm workers — the Seasonal Agricultural Worker Program (SAWP) and the agricultural stream of the Temporary Foreign Worker (TFW) program — employers must provide housing for their workers.

SAWP workers live rent-free – it's part of the compensation they receive from their employers – and although TFW ag stream workers pay rent, it's capped at a maximum of $30 a week.

In Ontario, all housing for workers on those programs is inspected by government officials, local public health units and, for SAWP workers, liaison officers from their home countries. Inspections are completed annually before workers are allowed to arrive at a farm but can and do also take place during their employment term.

These workers also have access to a multilingual, 24/7 federal government support centre they can use to raise concerns and seek help relating to their housing or any other aspect of their current employment.
Minimum standards on what the provided housing needs to include vary from province to province, and although there is currently no national standard, the federal government has announced consultations on the development of new common housing rules that would apply nationwide.

In Ontario, housing for workers with permits under SAWP or the TFW program must follow fire and building codes and local public health standards. Employers must provide housing that is pest-free, can maintain a minimum temperature of 20C, and has clean water, ventilation and adequate sanitation facilities.

Local municipalities can – and do – set additional standards, and many growers, like Meyers Fruit Farms, voluntarily go above and beyond the minimum requirements to ensure their workers have comfortable housing.

"The COVID-19 pandemic really put a new focus on worker housing and even though we're still waiting for the development of the new national housing standard, many growers have proactively made significant investments into housing upgrades in the last several years to ensure workers have safe, comfortable living spaces," says Stefan Larrass, senior policy advisor with the Ontario Fruit & Vegetable Growers' Association.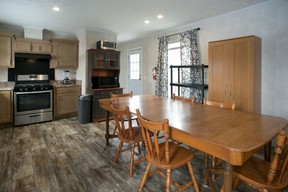 Mike Chromczak, an asparagus and watermelon grower from Tillsonburg, has recently completed new modular housing units for his team of seasonal agricultural workers from Jamaica. Each four-bedroom unit houses six workers who share two full bathrooms, two fridges, laundry facilities and a spacious kitchen and common living area.
Chromczak has also equipped each home with a high-efficiency gas furnace and air conditioning, satellite TV, high-speed internet and even an HRV air exchanger to keep the air clean.
"With this (housing) expansion here on our farm, we've also been able to put half of our workers into their own bedrooms – and we're proud to provide them with all the amenities of a home that anyone else would expect to enjoy," says Chromczak.
Outside of the strongly regulated SAWP and TFW program, unregulated and potentially inadequate housing can be a concern in situations where workers are undocumented or working without legal permits. Regardless of what sector they are working in, their precarious status leaves them vulnerable to mistreatment.
Both the federal and provincial governments have announced their intentions to prevent the exploitation of these undocumented people, which has the full support of the agriculture sector, notes Larrass.
Read the stories of Ontario's international farm workers in their own words at morethanamigrantworker.ca.