•  
Local Journalism Initiative Reporter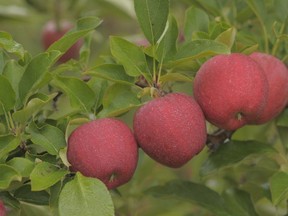 Norfolk County is overflowing with apples.
Nearly two months into the harvest, farmers in one of Ontario's top apple-growing regions say yields are up 15 to 18 per cent over last year."We've had a really great crop this year," said Casey Cleaver of Cleaver Orchards, who grows 45 apple varieties on 130 acres near Simcoe."Really good fruit quality from top to bottom (and) really nice weather throughout harvest for picking."When asked which variety was looking especially good this season, both Cleaver and Brett Schuyler of Schuyler Farms chose the Ambrosia, popular for its sweetness and low acidity.

"It's a big, good-quality apple crop," said Schuyler, whose approximately 1,000 acres of orchards produce roughly half the apples grown in Norfolk.

"Coming out of a shaky spring with frost, the crop's turned out better than we would have guessed," he said.
Norfolk's bountiful apple harvest mirrors those seen across Ontario and in the apple-rich states of Michigan, New York and Washington, according to Hayden Dooney, general manager of the Norfolk Fruit Growers Association (NFGA), a co-operative that sorts, stores and sells Ontario apples.The first apples rolled into the association's production facility in Simcoe on Aug. 18, and by season's end Dooney expects his team will have processed 45 to 48 million pounds of fruit."There's a good opportunity to sell lots of local fruit in Ontario," he said.Haldimand-Norfolk only trails Grey County for apple production in Ontario, according to the provincial agriculture ministry. In 2020, Haldimand-Norfolk farmers grew just under 55 million pounds of apples on 2,080 acres.
Cleaver and Schuyler attribute the success of the local apple industry to the many migrant workers who come north from Jamaica, Trinidad and elsewhere to work on farms in Norfolk."We couldn't get through picking this crop without these guys. They've done a fabulous job," Cleaver said of the 15 Jamaican workers who return to his farm every year."It's the difference between growing apples and not growing apples," added Schuyler, who employs around 400 people through the federally administered Seasonal Agricultural Worker Program.That there are more apples to sell this year than last is the good news for farmers. Whether the added revenue will make up for an estimated 20-per-cent hike in fuel and fertilizer costs remains to be seen.
"The cost of everything has gone up this year, and we've had to make adjustments to how we produce the crop because of that," said Cleaver, who has his fingers crossed for a good payday at the end of the season.Dooney said the "necessary evil" of price increases at the grocery store is likely needed to cover the added costs for growers and others on the supply chain, from pricier packaging and shipping to higher utility bills.Retailers also need their slice of the pie, he noted, leaving small margins for farmers.But pricing apples is a balancing act, Dooney said, since consumers will only accept so much sticker shock on what is traditionally a lower-priced fruit.

"We're trying to sell this crop for decent money to give fair returns back to growers, but we're definitely understanding of our place in the marketplace as well," he said.

J.P. Antonacci is a Local Journalism Initiative reporter based at the Hamilton Spectator. The initiative is funded by the Government of Canada.